A landscape garden as a work of art and a way of life
Theodor Fontane was not the only person who was inspired to write poetry in green while he was a guest at Lütetsburg in 1882. The castle park – the life work of a poetic and artistic mind – is at its most beautiful from May to June when the azaleas and rhododendrons are in bloom.
Daffodils and narcissi form a bright yellow carpet of blossoms in early spring. The beauty of the more than 150 noteworthy dendrological specimens only becomes clear on closer inspection and they are particularly attractive in autumn due to their splendidly-coloured foliage.
The park is an exceptional work of garden design which develops a special charm during each season. Created in early-Romantic style between 1790 and 1824, this English landscape garden is one of the few surviving examples of its kind on the European continent. It was inspired by Wörlitz and still reveals evidence of Chinese influence today.
The village of Lütetsburg, which is home to the moated castle and English landscape garden, is located near the town of Norden in Ostfriesland (East Friesland). The garden covers a total of 25 hectares and is part of a large estate. The building – a moated castle – is still the family seat of the zu Inn- und Knyphausen family of counts today.
Both the forecastle and its gate date back to the Renaissance as does the basic layout of the complete complex. The castle, which stands on ancient foundation walls, was destroyed many times and was constructed by Count Wilhelm Edzard zu Inn- und Knyphausen at the beginning of the 1960s.
The English landscape park was created by Imperial Baron Edzard Mauritz zu Inn- und Knyphausen (1748 – 1824) between 1790 and 1824, very likely with the help of Carl Ferdinand Bosse. It can be regarded in terms of both aesthetics and ideology as a high-class piece of garden design which consists of a sophisticated combination of features such as water, vegetation, ground modulation and follies.
For the Imperial Baron zu Inn- und Knyphausen, the park was a place of ideals which was planned completely according to aesthetic principles.
The plants selected when the park was being designed were not left to chance but were based on a deliberate systematic concept. The practice of planting according to aesthetic criteria was intended to stimulate the senses and to trigger certain moods. Besides the various types of trees and bushes and how densely they were planted, the shape and colour of their leaves played a role as did the seasons in which they flowered. Even sense of smell determined Knyphausen's choice of plants (after Alberts/ Kehn).
Apart from the beauty of its landscape, the charm of Lütetsburg castle park with its many lakes and waterways is created above all by the well-preserved historical design features dating from the years between 1790 and 1813. Just as in the past, they continue to play an important role in creating atmosphere in the park today and are embedded harmoniously into a balanced system of garden design comprising natural features such as ponds, canals, vegetation and ground profile.
The follies in the park – a temple of friendship, a Nordic chapel, a stone pyramid, a Caroline memorial, Boss hut and an island of the blessed – were closely linked to Knyphausen's life and to his philosophy of values and life, in which rural life, family, friendship and virtue were highly-prized values.
In spite of undergoing redesign and expansion and despite suffering extensive war damage, the structures of the original park have for the most part survived to the present day. However, the park's character has changed as a result of extensive underplanting with rhododendrons and azaleas.

Today, the old stock of trees – dominated by beeches and oaks, rare exotic specimens from Asia and America as well as yews, laurels and conifers ¬- combines with the newly-planted vegetation to form a harmonious whole.
In spring, large sections of the park are covered by a yellow carpet of daffodils around Easter. Before they have finished flowering, a ribbon of delicately coloured azaleas begins to wind its way though the park. Then the rhododendrons develop their wonderful show of blossoms at the end of May and in June. Park benches with inscriptions invite visitors to take meditative rests and to enjoy the atmospheric views across the park and small lakes as well as along the impressive avenue of thujas. Romantic wooden bridges link the individual garden islands to each other.
The dense foliage of the beeches and oaks provides cool shade on hot summer days while in autumn, it bathes the park in a picturesque red-yellow light. In winter, the bizarrely-shaped branches of the oaks form dark shapes against the winter sky, particularly in snowy weather.
Theodor Fontane visited Schloss Lütetsburg in 1882 and immortalised the summer atmosphere in a poem.
The small café in the park has a leafy terrace and serves coffee and cake at certain times.
The texts were compiled from the following sources:
Alberts, Birgit; Kehn, Wolfgang (1998): Der Schlossgarten zu Lütetsburg. Sonderdruck aus: Die Gartenkunst, 10. Jahrgang 1998, Heft 1. Wernersche Verlagsgesellschaft mbh, Worms. 2003
Ostfriesland Magazin 4/2007
Website Schloss Lütetsburg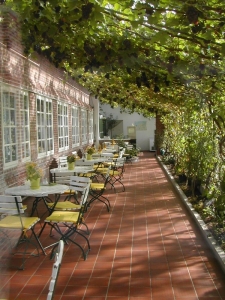 Address:
Schlosspark Lütetsburg
Landstraße 55
26524 Lütetsburg
Tel.: 0049-4931-4254
Fax: 0049-4931-4253
 
Email: info@schlosspark-luetetsburg.de
Website: www.schlosspark-luetetsburg.de

Owner: Tido Graf zu Inn- und Knyphausen
Opening Times:
May – September: 08.00 – 21.00, daily
October – April: 10.00 – 17.00, daily
The house is not open to the public
Admission:
2,00 Euro (ticket machine); Annual ticket 15 Euro
All entrance fees go directly into the maintenance and development of the park.
Coins can be obtained from a machine close to tea-room and toilets.
Guided tour available. For details see website: www.schlosspark-luetetsburg.de
Dogs on lead only.
Exhibitions and events:
For actual information see website: www.schlosspark-luetetsburg.de
Visitor services:
Shop: yes
Tea-Room: Tea-room with outdoor seating within the park (daily, 11:00 – 17:30). The tea-room is accessible without entrance fee.
Toilet: Yes, close to tea-room
Parking: 1 Euro; Annual ticket 20 Euro. Parking area close to main entrance.  Bicycle stands available. No Cycling in the park.
Benches: yes, some with historic engravings.
Average visitor duration: 1 – 2 hours.
Accessibility: All main paths are fully accessible.
Photo rights: Commercial photos, videos etc. by written request and allowance only.
Additional information: